Tennis-Specific Learn-By-Doing Seminar
Presented by OnCourt OffCourt and the iTPA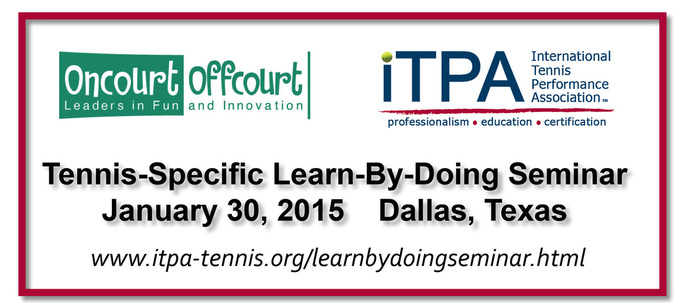 ---

Worth 30 iTPA Continuing Professional
Education Credits & 6 PTR credits



What:

This one day unique Learn-By-Doing Event is designed for tennis players, coaches, parents, physical trainers and therapists who are looking for a world class educational event in a complete 100% hands-on learning environment. This great event will be led by two of the industries greatest educators and will be a combination of drills, exercises and progressions using dozens of different pieces of equipment that you will learn how to use and how best to implement. Unlike most educational events, where the participants sit and learn, in this exciting environment you will be the one exercising, learning and teaching alongside other like-minded individuals.

Continuing Education Credits Provided By: International Tennis Performance Association (iTPA), United States Professional Tennis Association (USPTA) and Professional Tennis Registry (PTR).


---

When:

TBD

Where:

Dallas, TX

Royal Oaks Country Club
7915 Greenville Avenue
Dallas, TX 75231
Click Here for MAPPrice:
Worth 30 iTPA CPE credits & 6 PTR credits. USPTA Credits TBD.

---

Presenters:


Dr. Mark Kovacs, Phd, FACSM, CTPS, CSCS*D, MTPS

Dr. Mark Kovacs is a performance physiologist, researcher, author, speaker and coach with an extensive background training and researching tennis players. He formally directed the Sport Science, Strength & Conditioning and Coaching Education departments for the United States Tennis Association (USTA). He was an All-American and NCAA doubles champion in tennis at Auburn University and earned his PhD from the University of Alabama.

He is a Certified Tennis Performance Specialist (CTPS) through the iTPA, and in 2012 he was the youngest ever recipient of the International Tennis Hall of Fame Educational Merit Award. He has worked with hundreds of elite athletes in dozens of sports providing high performance sport science services in the lab, on the court, field, pitch, track and ring.

Joe Dinoffer, USPTA and PTR Master Professional

Joe Dinoffer has had an extensive "world class" career in the tennis industry, and has conducted clinics and exhibitions in over 50 countries, personally logging over 30,000 hours of instruction in English, Spanish, and German. He is a Master Professional in both the PTR and USPTA, a distinction awarded to only a select few in the tennis industry. Joe also received the prestigious 2006 USPTA Tennis Industry Excellence Award and was also selected as the 2012 USPTA Texas Pro of the Year.

Joe is the author and editor of 7 books and 17 DVDs. He writes regularly for www.TennisOne.com and Tennis Industry Magazine, and also has had numerous tips airing on the Tennis Channel. As a member of the Head/Penn Advisory Staff and National Speakers Bureau, Joe is a frequent speaker at national and international tennis conferences, having conducted over 250 workshops since 1995. He is also the founder and president of Oncourt Offcourt, Ltd., a company exclusively serving the needs of tennis, fitness, and physical education coaches with innovative training aids and educational tools. He lives in Dallas, Texas, with his wife, Monika, and their daughter, Kalindi.




---

THE FORMAT – Learn-By-Doing 9am-11am: Developing Physical Literacy In Tennis Player At All Ages (Kovacs)

Using fun and interactive products to engage and stimulate while working on the most relevant physical skill development areas (throwing, catching, running, jumping, landing, hopping, speed development, balance, movement, agility, coordination)

11 am - 12 noon: Incorporating the best teaching aids in improving technical, tactical aspects of tennis development at all levels of the game
(Joe Dinoffer) 12 noon - 1 pm: LUNCH 1-3 pm: Performance, Training and Recovery Tools To Improve On-Court Tennis Performance and Reduce Injuries (Kovacs)

Learn how to use the latest equipment that can speed learning, skill acquisition and strength and conditioning tools for improved tennis performance

3-4 pm: Self-Directed Learn By Doing Session With Q&A With The Experts

---

---

---