iTPA Affiliate Program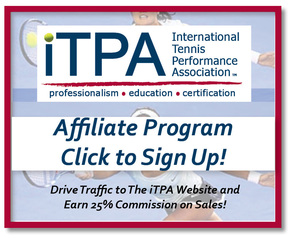 _
Question: What is the International Tennis Performance Association Affiliate program?
Answer: The iTPA affiliate program allows you to make money by referring customers to our website. When a tennis fitness product or tennis certification is purchased by a customer referred to our website through your affiliate link, we pay you a 25% commission for the sale.
SPECIAL: Receive a $10 Bonus when you make your first sale!
Question: How does an Affiliate program work?
Answer: By referring customers to our website, you can earn commissions on sales. Simply place links, ads, or banners on your website, and every time you refer a customer to us that makes a purchase, you earn a commission of 25% of the sale. In every calendar month you will receive your commission payments via Paypal as long as you have reached the $50 payout limit. Easy!
Question: How do I join the Affiliate program?
Answer: The iTPA Affiliate Program is managed by our shopping cart, Premium Web Cart, so you will sign up for an account on their website in addition to applying for our program, all at the same time.
Sign up now here.
Question: Does it cost me anything to become an Affiliate?
Answer: Absolutely not. There's no charge to apply and no minimum sales requirement to continue in the program.
Question: Can I promote the iTPA on more than one website?
Answer: Absolutely. Feel free to promote our products on one or all of your websites. The more links and content you place on your websites, the more visitors you are likely to send to our website.
Question: Is my website eligible for your Affiliate program?
Answer: Most websites are eligible, but we do reserve the right to refuse membership to a website or revoke your membership at any time if we determine that your website contains objectionable material, such as content of an adult nature.
Question: Where do I find my Affiliate banner or text links?
Answer: After being accepted into our program, you can log into your Affiliate Account and view this information. Signing up and getting started is very easy.
Question: Where should I place affiliate links or ads on my site?
Answer: Place ads where they are easily seen and more likely to be clicked such as the website's home page, sidebar and other high-traffic areas.
Question: Any other ideas to promote the products?
Answer: Writing an article or post about the product and including your affiliate link is a wonderful way to promote a product. If you have already become certified, your personal testimonial about the iTPA and certification products is a great sales tool when included in a review article.
Other Features:

It's free to join.
We have multiple products for sale which means you have the chance to earn multiple commissions on every person you send our way.
You get 25% commission on each sale you refer that buys any of our products.
All you need to do is send traffic to us. We do all the selling.
We keep an updated affiliate resources area, full of banners and other material for your promotions. And if you need something special made, we'll design it for you for free.
SIGN UP TODAY
Promote Effective Training For Tennis While Making Money!