Active Recovery: Marc Pro

Looking To Improve Your Recovery?

If you are an active individual the need to improve recovery is just as important as the training you are putting in. Finding the right methods to improve recovery are paramount.

---
There are four main factors that regulate muscle recovery in adequately hydrated, nourished, and rested individuals:

(1) the bringing in of nourishment and other supplies

(2) the removal of waste

(3) the production and release of myokines; and

(4) the remodeling of the repaired tissue.

Only active recovery can accomplish all of these goals as muscle activation is the fundamental facilitator of the four processes noted above.

When skeletal muscles are amply activated, they send a message to the smooth muscles that surround the blood vessels to relax. Once relaxed, the blood vessels dilate (widen) and circulation increases.

Next, let's look at the process of lymphatic drainage. First and foremost, it is important to recognize that the lymphatic system is passive, meaning that the movement of waste is nearly fully dependent upon the activation of the muscles that surround the lymphatic vessels. Muscle activation is needed to push waste through the complex mechanical marvel that is our lymphatic system.

Then the muscle activation of active recovery provides the needed mechanical stress to facilitate the production and release of myokines; which drives the tissue regeneration process.

Lastly, repaired muscle tissue cannot optimally remodel without mechanical stress. Failure to optimally remodel the repaired muscle tissue leads directly to dysfunctional movement. Active recovery provides the needed mechanical stress to optimally remodel the repaired muscle tissue.

So if muscle activation through active recovery is the only way to accomplish all of the goals needed for ideal recovery; then what's the best way to actively recover?

ACTIVE RECOVERY.

So what is needed for the ideal active recovery? Active recovery that is substantial enough to get all the physiological processes going (increased blood flow, increase lymphatic drainage, mechanical stress needed to facilitate repair and remodeling, etc.) Active recovery that will never cause more fatigue. Active recovery that won't put stress or strain on any part of your body. Active recovery that you can do to any muscle of your body. Active recovery that is unlimited; the more you need or want the more you can get. Active recovery that is easy, comfortable, and convenient.

What type of active recovery meets all of these criteria? Marc Pro. The recovery benefits of Marc Pro (

www.marcpro.com

) are used by hundreds of Pro teams, world class athletes and some of the best trainers and therapists in the business. The iTPA has used this product and recommends it for individuals who are looking for active recovery in an easy portable and convenient device.


Some of the Best Athletes and Teams Use Marc Pro to Speed Recovery

Take a look at the videos below to learn about the Marc Pro and how to utilize it for many different situations.
To purchase the Marc Pro use the special code ITPA to receive a special discount ($47 off for Marc Pro Plus and $32 off for Marc Pro) at http://marcpro.com/store/
· Adapted from
www.marcpro.com
FREE Videos from Marc Pro

PREVIEW VIDEOS:

FULL LENGTH VIDEOS

---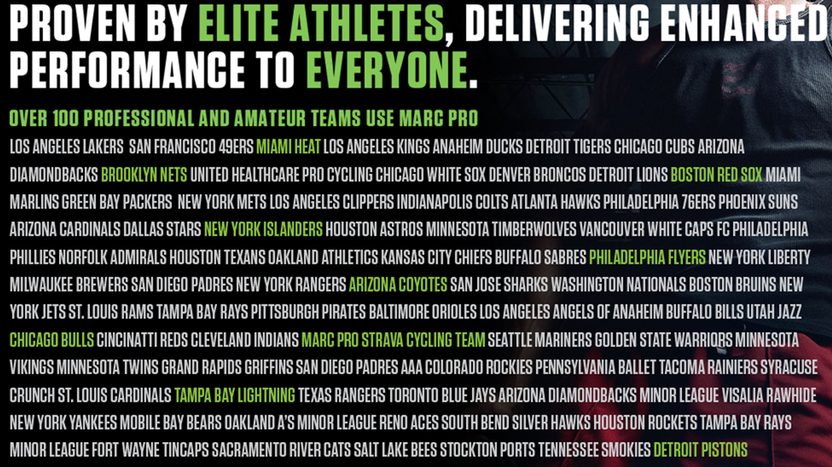 ---

---