About the International Tennis Performance Association (iTPA)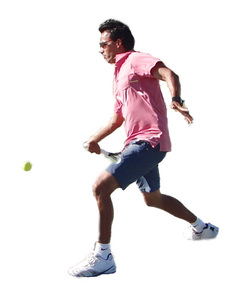 International Tennis Performance Association (iTPA) is the worldwide tennis fitness education and tennis certification organization for trainers, coaches and specialists who have a passion for tennis-specific performance enhancement and injury prevention.

Through quality evidence-based education, the iTPA is the leader in tennis-specific performance, education and certification for individuals and organizations working within the tennis industry. The iTPA will continue to be the evidence-based authority in tennis promoting the professionalism and expertise of iTPA certified members while helping to improve the health, safety and performance of tennis athletes worldwide. The iTPA's tennis specific education is geared toward: tennis coaches, tennis fitness trainers, athletic trainers, personal trainers, physical therapists and other tennis-specific specialists.

ITPA offers 3 levels of certification:
Tennis Performance Trainer (TPT), Certified Tennis Performance Specialist (CTPS) and Master Tennis Performance Specialist (MTPS). See the certification tab at the top of the screen for more information on these tennis certifications focused on tennis fitness based on scientific evidence. Also offering DVDs and in-person workshops and conferences.




---
Professionalism - Education - Certification
Changing the Way Tennis is Trained

The iTPA tennis fitness world headquarters is based in Atlanta, Georgia, USA.
Any questions or suggestions, please contact us at (770) 828-5779.
iTPA hours of operation are M-F 9 a.m.-5 p.m. EST.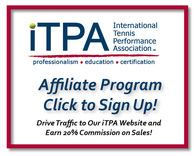 Sign up for our iTPA email newsletter and receive a 10% off coupon code! (Code valid on DVDs, printed workbook, books. etc.
Not valid on certifications themselves)

International Tennis Performance Association