Tennis Performance Trainer (TPT)
Tennis Fitness Certification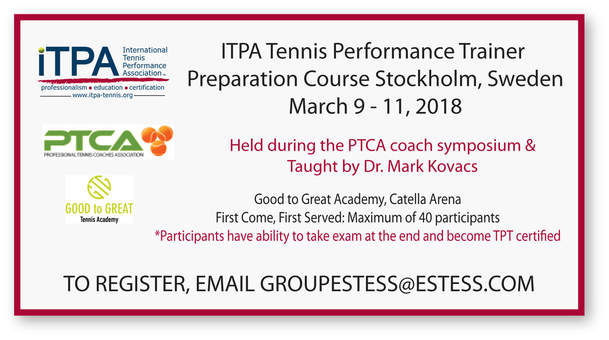 _ Yearly Membership and Re-certification Fees:

$89 per year certified member dues for TPT (if member has more than one iTPA certification, only 1 certified member fee applies). Yearly dues will automatically be charged to the original credit card you used for the registration 1 year later. We will send you an email 1 month before as a reminder. If at that time you choose NOT to go through with iTPA Yearly Dues, you will immediately lose access to the iTPA Inner Circle, will not be able to use your TPT designation and if you decided to become certified in the future must go through the process again from the start and re-take the exam. Tax is also charged for GA state residents.


Re-certification fee is $49 every 2 years (billed at year end).
50 Continuing Professional Education (CPE) Credits required every two years along with re-certification fee. Re-certification and CPE info here


Graphic on the 14 TPT Competencies - Click to Download

Click below to download TPT Tennis Certification Info flyer (PDF)


TPT is the Level 1 tennis fitness certification targeted at those wanting to enter the profession, tennis coaches who also perform the physical training with their players or those fitness or other professionals looking to add tennis-specific initiatives to their current training/specialist offerings.

Demonstrate your tennis fitness knowledge and gain credibility with employers, parents and tennis players. If you work at a club, make sure your owner realizes that by paying for their tennis coaches to be iTPA Certified through Tennis Performance Trainer (TPT), they will have a certified tennis fitness specialist on site! This can be a great marketing tool for the club.

100% online exam that can be taken from ANY country as long as you have a computer and internet connection.

TPT focuses on basic, evidence-based tennis-specific training research provided in a practical manner which builds your knowledge and skills when working with tennis athletes of all ages and levels. You will learn tennis-specific sport science information with assessments, drills & exercises to improve performance and reduce injuries in the tennis athlete. The program educates you in 14 areas of competencies including an extensive online examination to ensure mastery of the tennis-specific fitness and training information. All materials were either written or reviewed by leading sports medicine or sports science experts.

*Click here if you are unsure whether to obtain TPT or CTPS. This graphic will help you decide.Pre-requisites:

Must be > 18 years old
Have a current CPR, First Aid or AED Certification (only 1 certification is required - not all 3). A copy of your current card is required (either by email or mail) by the time you take the exam. Even if you pass the exam, you won't be granted TPT status until you have sent this to us. You CAN email us the CPR proof during the 3 month period you are studying, and we do accept online versions.

Highlights:

Online Exam consisting of 75 Multiple Choice questions
2.5 hours is given to complete the exam (exam is timed and you cannot pause the timer once the exam has begun. Please allow 2.5 hours to complete exam)
Passing Requirement is >70 % of all answers correct
3 months given to take the exam from the day you register
Cost: $199, which includes 1 Exam, iTPA-TPT Workbook and Study Guide PDF, 1-year Certified Membership, Access to iTPA Inner Circle Member Only Website. *No refunds will be given for cost of exam even if it is not passed.* See Yearly Dues and Re-Certification Fee info here. Please note a PDF only of the Workbook will be sent to you. If you want a printed, color copy in a binder, you can purchase that from our Products Page. No printed version will be mailed to you as part of normal registration, only the PDF.
After registration/payment, 3 months are given to take the exam. After this time period if you haven't taken the exam yet, or if you did not pass the exam, you may retake the test for a $59 fee which gives another 3 months.
See below for PDF of chapter learning objectives

Click here for a PDF of the Learning Objectives for each chapter in the Tennis Performance Trainer (TPT) Workbook & Study Guide.
"TPT is a must-have for any coach working with or developing elite level players." - Cameron Moore, TPT

TPT Has Been Translated into Spanish! Visit
This Page
For More Info. TPT ha sido traducido al español! Visite esta página para más información.
---

---

ITPA TPT Registration: $199  

After paying, you will be taken to www.itpamembers.org. Please check your email for exam and workbook info. A receipt will also immediately be emailed to you.

ITPA TPT Online Video Exercises Library: $29.99 Click to Go to Dartfish Website

ITPA printed copy of TPT Workbook and Studyguide: $109.99
NEW! TPT Sample Questions and Answer Key (30) $9.99