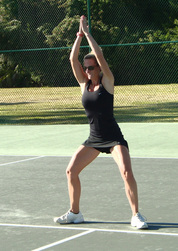 The warm-up period before tennis practice or competition is very important for a number of reasons. For many people they think of this time period as a time to warm the muscles and prepare the mind for the tennis that is about to happen. However, this time-period can be utilized in a more opportune way if a structured dynamic warm-up is applied. A dynamic warm-up, if performed appropriately, will increase core body and muscle temperature, increase heart rate, improve functional/dynamic range of motion, improve balance, coordination, strength and stability. It is important to realize that for many tennis-players this may be a large part of the "physical" training that they perform. If the dynamic warm-up is structured appropriately it can certainly improve the athlete in multiple ways while also preparing the body for the upcoming tennis play. Research has consistently shown that a well-performed dynamic warm-up is more beneficial for the athlete than traditional static stretching before physical activity (i.e. tennis). Compared to static stretching, dynamic stretching movements improves strength, speed, power performance in subsequent physical activities.
A great resource that is available highlighting dozens of dynamic stretching exercises is available
here
(Dynamic Stretching: The Revolutionary New Warm Up Method).
Also, the iTPA CTPS educational program has an extensive section highlighting the science behind the dynamic warm-up period as well as dozens of exercises with coaching cues and descriptions.
Video on Dynamic Stretching: