by Jonny Fraser (iTPA Master Tennis Performance Specialist, Science in Tennis) and Mike James (GPTCA International Tennis Coach)

Over the weekend of the 19th and 20th July 2014 both myself and Mike James attended the Society for Tennis Medicine and Science (STMS) and International Tennis Performance Association (iTPA) Tennis Medicine and Performance Conference at Life University, Marietta, Atlanta. With over 100 delegates attending the conference from a range of backgrounds including tennis coaching, strength and conditioning, sports medicine and other sport science disciplines the two day event provided the latest tennis research whilst delivering a host of practical sessions. With both Mike being a performance tennis coach and myself being a Certified Strength and Conditioning Specialist (CSCS), Certified Tennis Performance Specialist (CTPS), Master Tennis Performance Specialist (MTPS) alongside coaching tennis the majority of sessions we attended focused on the physical training and preparation of players; however, with our understanding of the holistic approach to developing tennis players it was of great interest to attend psychology, nutrition and medical presentations throughout the weekend.

The first session by one of the most respected tennis sport scientists, Dr. Mark Kovacs, gave an excellent explanation of the eight stages of the serve focusing on the technical aspects, physical components and injury reduction strategies. Particular points to mention were for coaches to be aware of hyperangulation of their athletes when preparing in the serve (where the humerus in time lags behind the scapular before accelerating up to strike the serve) and that when for example a right handed player serves they lands on their left leg countless times which may lead to an imbalance. It was suggested to consider that after a group of serves that a player completes a set of single leg squats on the non landing leg. Leading on from that it was a great pleasure to hear the editor of the NSCA journal Dr. Jeff Chandler discuss myths of training professional tennis players. This was an interactive session with the floor offering plenty of discussion. Areas focused on were strength training, physical testing, periodisation and tennis specific endurance training. There was an in depth discussion of when training junior tennis players to be aware of their chronological, biological and training age and ways in which to manage this.


The presentations by Dr. Neeru Jayanthi focused on an areas of great interest to me which considered injury prevention in elite junior tennis. With my main philosophy being that tennis can help develop young people positively whilst having great interest in talent development, I was intrigued to listen to the session. Indeed one of the first points made was that coaches (45%) have the most influence on players wishing to train at a high level in comparison to the player (35%) and then the parent (15%). This straight away made me think with coaches being the most influential person determining how intensely the player considers to take the game, even with the best intentions are coaches educated to a level where they understand volume, levels of appropriate intensity and how growth effects a young person's body? Indeed the thoughts of children not being miniature adults sprung to mind. Jayanthi went onto discuss a number of research articles he has published in recent years including considering risk factors for medical withdrawals from USTA National junior tournaments and training and sport specialisation risks in junior elite tennis players. A host of possible conclusions can be made from these two pieces of research. For example cumulative match scheduling and competition without adequate recovery and rest (approximately two hours) can be detrimental for junior tennis players. Despite this many systems across the world which rank and rate players are based on volume such as how many matches you win within a certain time period which ultimately may lead to excessive volume. Other conclusions were that players should consider delaying early specialisation until middle or late adolescence due to a potential increase risk of burnout and injury alongside playing only one or two tournaments per month, having adequate time away and recovery from the sport. Thanks must go to Jayanthi for his passion and drive to delivery outstanding research in this area of youth development.

There were a host of other fascinating presentations attended by myself and Mike James. Page Love delivered a session on nutrition focusing on recovery and reducing the potential risk of injury for tennis players. Much of the focus was on tart cherry juice and the antioxidant nature of this to reduce muscle soreness and aid recovery. Indeed this would be a very interesting research topic for anyone in tennis considering the benefits of tart cherry juice during intense match play and recovery. Ollie Stephens then considered the important factors when working as a team to develop competitive tennis players and Dr. Larry Lauer discussed bringing back players from injury. This lecture provided a great insight into the stages an athlete goes through when being injured, such as going through the grief stages and how a team can respond in a way to create a supportive, nurturing environment to help get the athlete back to full fitness. This included factors such as clear and transparent communication, education and listening to the athlete. Other excellent sessions discussed injury and illness data from the US Open for the past 15 years and the age eligibility rule and managing WTA players. Both gave a great insight to working with elite professionals.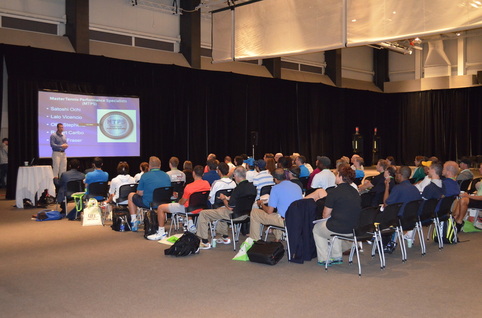 The practical elements from USTA Head of Strength and Conditioning Satoshi Ochi, Director of Strength & Conditioning at the University of Georgia, Katrin Koch, and Spanish Director of Education for the iTPA Lalo Vicencio gave delegates an opportunity to actively get involved and take home tennis specific drills and exercises. Focus on these areas included the split step and the opening of the hip and initial step, footwork and agility movements and co-ordination exercises to use with both younger and older tennis athletes. It must be said that with the great range and diversity of presentations and break out groups unfortunately we couldn't make each one, but based on other delegates thoughts and reviews every researcher or practitioner must be recognised for their excellent delivery and information either on a coaching, sport science or medicine level.
Away from the presentations the forums provided delegates to ask questions related to tennis science and medicine questions with two themes. The first one focused on developing young healthy tennis athletes. Indeed the topics varied from ways in which to strength train, manage volume and nutrition such as supplementation. The second panel discussed working with elite full time tennis professionals. It was also a pleasure to hear Atlanta based ATP tennis professional Robby Ginepri give his opinions on how tennis has changed over the past decade since he began his career on the tour. There was great acknowledgement that sport science and medicine has a larger part now to play when developing players and this is due to the advancement of the game physically. Ginepri explained that within his academy sport science plays an important role with the use of physical conditioning and performance psychology and nutrition sessions. This gave me great confidence with me recently starting my own business (www.scienceintennis.com) which is a sport science business solely focusing on tennis.
Ultimately both Mike and I feel there were a number of take home messages for practitioners working in tennis to be aware off. First of all you have to know the game, be aware of the common areas of injury, the challenges both junior tennis and senior professional players face alongside understanding the uniqueness of how to train a tennis player. Secondly, every tennis player is different and knowing your athlete and allowing them to feedback to you and the team you work with is essential to develop a strong professional relationship and maximise their potential. Thirdly don't over complicate things, tennis is a difficult sport to plan and periodise for so use the most effective ways of training but keep things as simple as possible. It was clear that educating players, coaches and parents alongside communicating with and understanding the roles of practitioners who can help develop tennis players, reduce injury and enhance performance is essential, the goal of any of us working within tennis.
Over 11 Hours of Presentations from the 2014 Tennis Medicine & Performance Conference available for download at the iTPA Dartfish Channel
http://www.dartfish.tv/CollectionInfo.aspx?CR=p90378c98277