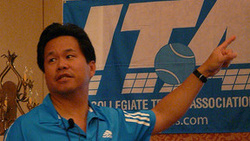 About the Author:

Doug Eng is a Master Professional with the US Professional Tennis Association and an International Master Professional with the Professional Tennis Registry, one of just 10 people worldwide to hold both honors. He is also CTPS Certified through the iTPA. Doug is co-chair of the USPTA National Education Committee and College Curriculum Committee and has worked with athletes of all levels, including ITF, WTA and Davis Cup players. In addition, Doug teaches and consults in sport psychology and physical training and does technical and tactical research. He has both a PhD in chemical engineering and an Educational Doctorate in Sports Psychology.
Do Lefties Have an Advantage in Tennis? By Doug Eng EdD PhD, CTPS, CSCS

One of tennis' most often asked questions is whether lefties have an advantage. In recent years, Nadal-Federer rivalry has really stirred that question. But during the mid-70s, lefties flourished in the game as Connors, McEnroe, Laver, Vilas, Roche, Orantes, and Tanner were among the very best.

The recent article posted on the iTPA website by Loffing, Hagemann and Strauss [1] adds one of the most detailed studies of handedness in tennis players. It includes a quantitative analysis of the WTA and ATP tours over a 38-year period. Comparatively, it also examines a large cohort of amateurs (3793 men and women) at the club level. The authors conclude that left-handers at the ATP level have had an advantage over the years (since 1973), but that advantage has significantly diminished. WTA players, however, showed almost no impact on handedness. In amateur rankings, for both male and female players, rankings were slightly skewed towards lefties.

Basically, we can ask, what are implications of the study? One of the most fascinating bodies of research concerns that of handedness in sports. It has been often suggested that mano-a-mano sports such as fencing [2] and boxing [3] can confer a distinct advantage for the left-handed competitor. In many team sports, handedness also confers an advantage if tactical options are similar for left and right playing fields. For example, ice hockey and baseball have abnormal number of left-handed athletes. But if asymmetry exists as in golf, lefties are rare. Furthermore for sports that pit competitors against the environment, the lefty population is the same as the non-playing normal population. The mano-a-mano advantage has also been demonstrated in primitive cultures [4] where the more violent cultures have higher percentages of left-handers in the population and less violent cultures have fewer lefties. In addition, we long accept that men tend to be more aggressive or violent than women. In fact, male lefties outnumber female lefties 1.23 : 1 [5].

Most of the sporting world's handedness is based on two basic types of lefties: natural and environmental. Rafael Nadal is an example of an environmental lefty. He is a natural righty but was changed to a lefty by his uncle and coach, Toni Nadal. In team sports like baseball and ice hockey, there are quite a few environmental lefties. They are natural right-handed athletes who adapt to their positions (e.g, left wing) to seek tactical advantages. Some sports including golf have fewer lefties than the general population. Part of the reason had been offered that golf left-handed equipment is less available and many feel that golf courses are naturally designed with an advantage for right-handed players. Therefore, many lefty golfers conform to rules of the game and play right-handed. The same is also true for some cultures. Many formal cultures such as Mexico, China, India or Japan impress conformity and most natural lefties become environmental righties. In these countries, typically the lefty population is 4% or less [6]. Many natural lefties change according to the rules of the game or society.

Lest we get too far from the sport of tennis, let's bounce back to the court. Loffing et al found that the lefty advantage is small and exists at the ATP level and the club level but not the WTA level. Over the years, the ATP advantage of lefties has diminished. Like other researchers they attribute the lefty advantage to frequency-dependent selection. In short, that means if an athlete is not accustomed to seeing lefties, the element of surprise or better yet, the righty, will make a few more mistakes against the lefty as opposed to the righty. Today's athletes are better prepared and perhaps train against lefty practice partners more often than thirty or forty years ago. The authors explained that this frequency of preparation might sink the lefty advantage. It is generally accepted that there is no genetic advantage of left-handed tennis players except this frequency-dependent selection.

The authors, however, do not consider the evolution of the two-handed backhand. Forty years ago, few players used the two-hander on either tour. Today, typically at least 95% of the WTA players have a two-handed backhand that may be good as the forehand. On the ATP Tour, the number of one-handers in the top 100 is typically around 25%. If one considers the equality of the WTA forehand/backhand combination and the relatively strong return of serve (neutralizing any lefty serves), then it should be predicted there is no advantage on the WTA Tour. With 25% one-handers on the ATP Tour, there apparently is room for some lefties to exploit the one-handed backhand. Throw in the lefty serve and that may explain why the Nadal statistically may dominate the Federer's. But since only 25% of the ATP population are one-handers, that advantage becomes small. Of course, this is theoretical and has not been proven. In fact, even in modern times, we have seen more one-handers as dominant players (e.g, Sampras, Federer) than two-handers. Nevertheless, the authors point out that a return to a lefty-dominated tour is very unlikely.

The suggested frequency-dependent selection indicates that coaches can prepare their right-handed players by regularly sparring with lefties. After getting used to the lefty game, the right-handed player can neutralize any advantage that lefties may have. Best practices may involve 1) selection of left-handed practice partners, particularly on the serve and 2) adjustment of tactical patterns such as hitting down-the-line more frequently if to a weaker side. Such is one reason Novak Djokovic has good success against Rafael Nadal as Novak's down-the-line backhand (to Rafa's backhand) may be the best in men's tennis. Another tactical adjustment might be practicing the inside-out, inside-in pattern with emphasis on the inside-in as the setup shot. Most right-righty matches rely on the inside-out rally from the ad court to open the court by pounding the backhand. In the righty-lefty match, the inside-out becomes the precursor to the inside-in forehand, possibly as an approach shot. A final tactical change to coach can be the increased use of the right-handed slice serve. Today, most players are content with flat, big serves or heavy topspin or kick serves. The slice serve isn't utilized as much at the elite junior boy's, college men's or ATP level. So lefties may taste some of their own medicine.

As a team coach, it is always good to have a couple lefties for the rest of the team to practice returning serve. In addition, in doubles, we always hear of the great lefty-righty duos like McEnroe-Fleming, Woodbridge-Woodforde or the Bryan brothers. We see similar match-ups with ice hockey front lines and baseball pitchers.

From a training perspective, it is important to train athletes symmetrically in preparation of movement and core strength. Tennis is already an asymmetric sport where the dominant side takes a heavy toll. Tennis players can use dumbbells in asymmetric training where they can work the left and right sides of the body separately. Athletes then become more aware of which side is weaker and which is stronger. For example, the one-legged Romanian deadlift or one-legged squat can be useful for training to support the high eccentric forces involved in tennis (e.g, landing on the serve). In addition, asymmetric training can reduce the total amount or weight to lift which can reduce forces on the back or other injury-susceptible areas. Also, it involves more proprioceptive balance in tennis-specific body positions. Separately training both sides of the body can also important in lefty-righty matches since rallies may tend to actually differ from righty-righty matches due to tactical differences. For example, in a medicine ball toss, training both sides equally is important. Most players favor the forehand over the backhand. And lefties, like Nadal does to Federer, may exploit the backhand side of the righty. Training for the lefty is not unlike dealing with a pusher versus a serve-and-volleyer in terms of using slightly different energy systems. Against the pusher, most players will involve the aerobic energy system more than against a player who likes to end points quickly by coming to the net. Hence, the training principle of specificity and deliberate practice are strongly implicated.

As a final note, such tactical and training implications can be important for the recreational or advanced male tennis player as Loffing and co-workers suggested. But for female elite players, the authors concluded there was almost no advantage. Why not an advantage? It is difficult to say why. The amateur players were slightly skewed towards a greater number of lefties ranked high at the clubs. There could be a number of reasons. First, the skew may be related to the best servers and at the club level, the lefty servers may have an advantage, male or female. In addition, at the club level, the study probably included some adults 30-60 years old. Chances are more of these players may have one-handed backhands than the WTA Tour (<5%). Thus, the female club players may show a lefty effect. In addition, at the WTA level, the return of serve is considered relatively more effective than at the ATP level. For 95% WTA players with two-handed backhands, many may have equal backhands and forehands. And at the club level, typically among older populations, the one-handed backhands for men and women are more frequent than the WTA. With a lesser serve and equal backhand-forehand sides, the WTA scenario confers little advantage for the lefty.

In summary that doesn't mean teach every player a two-handed backhand. Otherwise we wouldn't have the Sampras, Grafs and Federers of the tennis world. We need to consider that the one-handers usually have better all-court games and if the game ever changes to encourage more net play, things might shift. This argument is somewhat speculative as the authors did not investigate the one-handed backhand efforts. Finally, today's ATP and WTA one-handers evolve in a world of two-handers and to reach a high pinnacle they need to survive with a high-caliber one-handed backhand. Forty years ago, generally almost everyone had one-handers and didn't have to compete with the modern two-handers so competitive natural selection wasn't as great a factor. Today ATP and WTA players with one-handers today have to be good on that side. That may also diminish the left advantage.

Ultimately we will have to wait for another chapter in the southpaw debate. Meanwhile, keep training those players!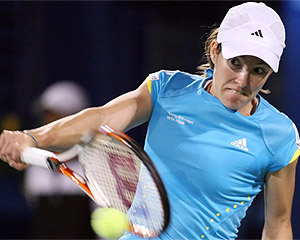 References
1. Loffing F., Hagemann N., Strauss B. (2012). Left-Handedness in Professional and Amateur Tennis.
PLoS ONE
7
(11): e49325.
2. Harris LJ (2010). In fencing, what gives left-handers the edge? Views from the present and the distant past.
Laterality: Asymmetries of Body, Brain and Cognition
,
15
(1-2):15.
3. Gursoy R. (2009). Effects of left- or right-hand preference on the success of boxers in Turkey.
Br J Sports Med
43
:142-144
4. Faurie C., Raymond M. (2005). Handedness, homicide and negative frequency-dependent selection.
Proc. R. Soc. B
272
, 25–28.
5.
Papadatou-Pastou M
.,
Martin M
.,
Munafò MR
..,
Jones G.V
. (2008).Sex differences in left-handedness: a meta-analysis of 144 studies.
Psychol Bull.
134
(5):677-99.
6. Shimizu A., Endo M. (1983). Handedness and Familial Sinistrality in a Japanese Student Population
.
Cortex
19(2
) 265–272.