Conference is During the 2014 BB&T Atlanta Open, an ATP World Tour Professional Men's Tournament Including Players Such As John Isner, Sam Querrey, Donald Young, Richard Gasquet, Gael Monfils & Robby Ginepri


. Topics Covered:


Injury and Illness Data from 15 Years of the US Open
Insights from a Grand Slam Semi-Finalist
Injury Prevention Exercises and Progressions for the Healthcare Provider
Effective Tennis-Specific Taping Techniques
Training Tennis Athletes The University of Georgia Way
Insights from The Trenches: Q&A sessions with Professional Tournament Doctors, Physical Therapists, Athletic Trainers, Strength Coaches, Dieticians
Applied Biomechanics of Tennis Strokes and How Strokes and Inefficient On-Court Movements Contribute To Injury
The Tennis Shoulder
Treating Chronic Tendon Conditions in Tennis Athletes
The Mental Aspects of Helping Tennis Athletes Recover from Injuries
Nutritional Interventions to Aid the Injured Tennis Athlete
Recovery Techniques for Tennis
Periodization and Planning for Tennis
The Young Tennis Athlete Discussion
Strength & Conditioning Progressions for On Court Performance
Clinical Examinations of the Upper and Lower Body
Tennis Research Sessions





Conference Chairs:

Neeru Jayanthi, MD, USTPA, [Vice President of Society for Tennis Medicine and Science]
Mark Kovacs, PhD, FACSM, CTPS, MTPS, CSCS*D, USPTA, PTR, [Executive Director, International Tennis Performance Association]


When:

July 19 & 20, 2014 -- Hosted by Life University,

Atlanta, GA.


Worth 3 USPTA Credits


SUBMIT research abstract proposals for presentation during the research sessions of
the conference by clicking HERE
---
AUDIENCE PROFILE

Physicians, PT, ATC, Strength & Conditioning, Fitness & Tennis Coaches, & tennis enthusiasts interested in understanding the various medical, orthopaedic, performance, tennis performance and injury prevention issues.
COURSE OBJECTIVES

This conference will provide participants the ability to acquire additional techniques of evaluation, management, and training for tennis players.
Upon completion participant will be able to:
Apply information to better evaluate the injured tennis player
Acquire additional techniques of evaluation, management & appropriate need for advanced techniques and procedures to tennis and other athletes
Cite new recommendations in medical issues that affect a tennis player's ability to compete.
Incorporate an understanding of epidemiology of injuries in various levels of tennis players in their decision-making regarding injury prevention
Identify earlier, tennis specific injuries to prevent long-term chronic issues

Utilize tennis-specific evaluation and treatment to return to play after back injuries
Understand nutritional requirements for tennis athletes
Understand mental skills and communication skills in working with injured tennis players
Develop more effective on-court tennis-specific performance (strength & conditioning) programs for tennis athletes

Exhibitor Booth Space is Available for $350. Includes booth space (including table) for both days of conference, and logo placed on conference website as a sponsor.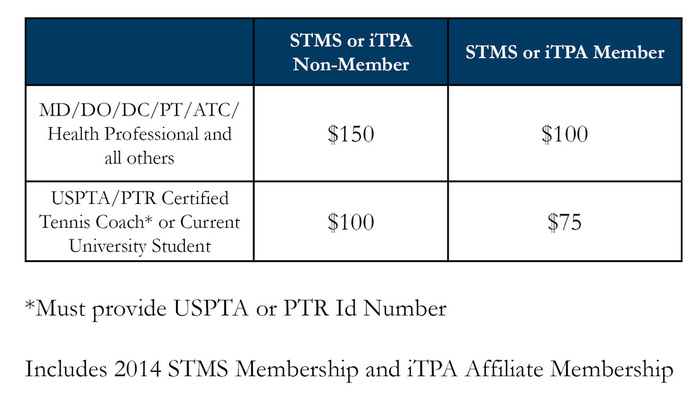 Register Today!


---
Credits:
NATA-BOC Credits (11), Physical Therapy CEUs from APTA GA (1.10), ITPA, USPTA, PTR Worth 40 iTPA CPE Credits and 3 USPTA Credits
Life University
1269 Barclay Circle
Marietta, GA 30060
Hotel Information: This is a busy weekend, so all hotels are filling up VERY fast.



DoubleTree by Hilton Atlanta-Marietta
2055 South Park Place, Atlanta GA 30339-2014 Tel: 770-272-9441
atlantamarietta.doubletree.com -
CURRENTLY SOLD OUT AT LIFE RATE
Life University Special Rate: $89.00 + tax
Complimentary internet; Free shuttle to Life U.
Call 770-272-9441 and ask for the "Life University" Rate or use this link:
https://secure3.hilton.com/en_US/dt/reservation/book.htm?ctyhocn=ATLWYDT&corporateCode=002698200
Drury Inn & Suites - Northwest Atlanta
1170 Powers Ferry Place
Marietta, GA 30067
(770) 612-0900
Code: 304494. Free shuttle to Life
For reservations at Life University Rates Click HERE
Country Inn & Suites - Atlanta NW
4500 Circle 75 Parkway
Atlanta, GA 30339
(800) 830-5222
. Free shuttle to Life.
For reservations at Life University Rates
click HERE
Nearby Hotels (No Special Life University Rates)
Hyatt Regency Suites Atlanta Northwest

2999 Windy Hill Road, Marietta, GA 30067 Tel: 770-956-1234

www.AtlantaSuites.Hyatt.com
CURRENTLY SOLD OUT COMPLETELY
Please note these rooms are all suites.
Approximate Life Rate: $119.00 + tax - Ask for Life University Rate
Free shuttle to Life U.
Courtyard Atlanta Cumberland Center
3000 Cumberland Blvd · Atlanta, Georgia 30339 Tel: 770-952-2555
www.marriott.com/hotels/travel/atlcu-courtyard-atlanta-cumberland-center/
Courtyard Atlanta Marietta/I-75 North 2455 Delk Road
Marietta, Georgia 30067 (770) 956-1188
Normal rate: $109
Marriott Atlanta Northwest

200 Interstate N Pkwy SE Atlanta, GA 30339
770-952-7900
*Based on Availability and there are times that special corporate rates are not available - high occupancy, conventions etc.
Conference Held in the
Center for Athletics and Sport Health Science Building
Parking available on the upper level
Campus Map

http://www.life.edu/media/LifeUMap/main/index.html
---