World Tennis Fitness Conference 2017
Registration Now Open!


---
With Support From: USTA Player Development, ATP World Tour, WTA, USPTA, PTR, FMT, RFET



We expect the National Strength and Conditioning Association (NSCA) to approve 1.3 CEU(s) for
certified individuals attending this event

---
---
Benefits:
Attendees receive a free Tshirt!
Breakfast and Lunch included on Saturday and Breakfast on Sunday
Full Programming and Attendance to all sessions on Saturday and Sunday
Breakfast and Lunch on Saturday and breakfast on Sunday
Drinks and snacks throughout the event

Full access to the Networking and Social event on Saturday evening
(Beer, Wine, Soft drinks and light hor d'oeuvres)

Access to many of the handouts/slides of presentations
Ability to network with the finest minds in the tennis, performance and injury prevention industry
Welcome bag with attendee gifts and special product discounts
Access to continuing education credits from:


USPTA, PTR, iTPA, PTCA
NATA, NSCA and Chiropractic credits for certain states The following states are offering CE credits for DCs: AZ, CO, CT, DE, DC, GA, ID, IL, IN, IO, KS, MD, MI, MS, MN, NE, OH, OR, RI, SC, UT, VT, VI, WA, WY and Puerto Rico


---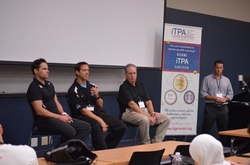 Conference Chair:

Mark Kovacs, PhD, FACSM, CTPS, MTPS, CSCS*D, USPTA, PTR

This conference will provide attendees the ability to acquire additional techniques to more effectively train tennis players.


---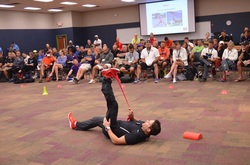 Who Should Attend:

Strength & Conditioning Coaches, Tennis Coaches, Physical Trainers, Certified Athletic Trainers, Physical Therapists, Chiropractors, Physicians, Healthcare Providers & Tennis Enthusiasts interested in learning the latest tennis-specific fitness education from some of the world's leading experts. Every presentation is focused on applying the latest evidence and techniques to improving the performance and reducing injuries in tennis athletes at all levels of the game.

---
---
World Class Speakers Include: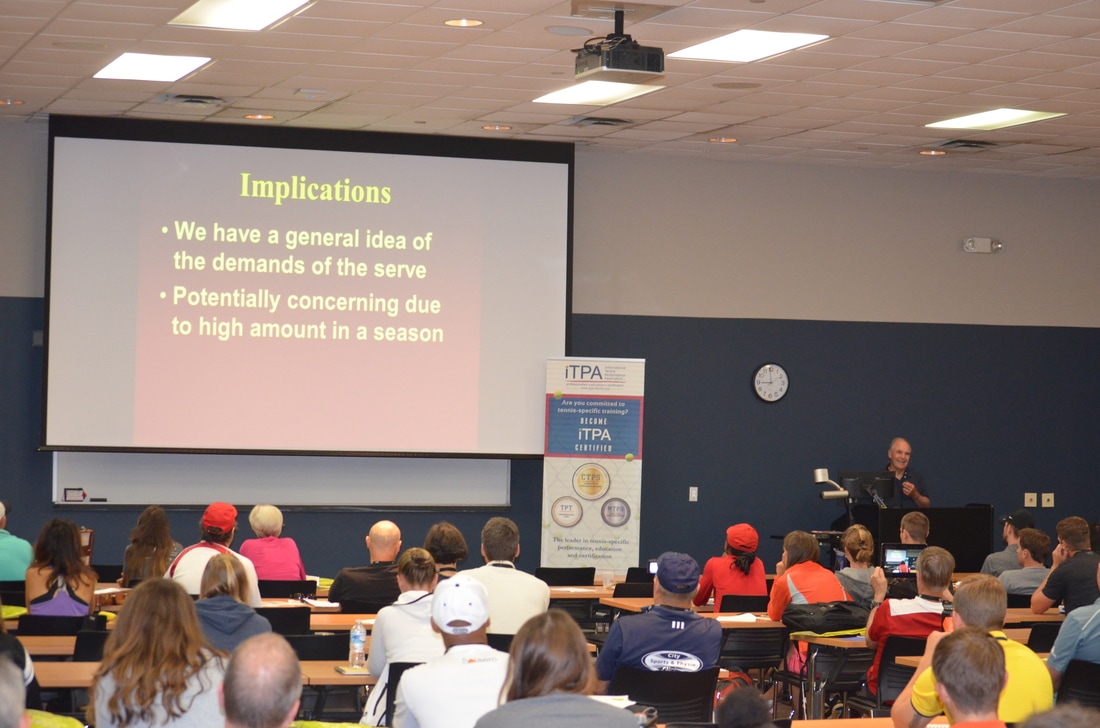 Olympians, Current and Former ATP and WTA Professionals, Tennis Sport Science Experts, Chiropractors, Physical Therapists, Strength Coaches and Tennis Coaches that cross over multiple areas of training, treating and monitoring tennis players from the 10 and under space to elite professionals and adult recreational players.
Sue Falsone, DPT, ATC - World Class Physical Therapist and Athletic Trainer
Gil Reyes - Long Time Trainer and Mentor for Andre Agassi
John Downes, DC - World Renowned Chiropractor
Mark Kovacs, PhD - Leading Tennis Specific Sport Scientist and Performance Expert
Neeru Jayanthi, MD - World leading Sports Medicine Physician and Researcher
Jason Vescovi, PhD - Lead, Sport Science and Medicine Program at Tennis Canada
Clay Sniteman, PT, ATC - Medical Director of the ATP Tour
Andy Britton, M.Ed, CSCS - Strength and Conditioning Coach at the Ohio State University
Aylin Seyalioglu, PT, DPT, ATC/L, CSCS - Tennis Specific Physical Therapist and Athletic Trainer
Rodney Harmon - 2008 Us Men's Olympic Tennis Coach at the Beijing Olympics and current Georgia Tech Women's Tennis Coach

And A few surprise coaches, trainers and players who are competing in the BB&T Atlanta Open
*Speakers and topics may change


Speaker Bios: Coming Soon
---
Price: Register Early!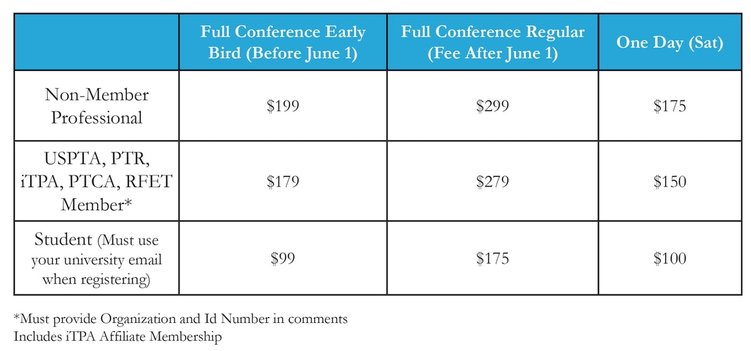 ---
2 Day Full Conference: Early Bird Pricing (Before June 1)

Saturday Only:

---
.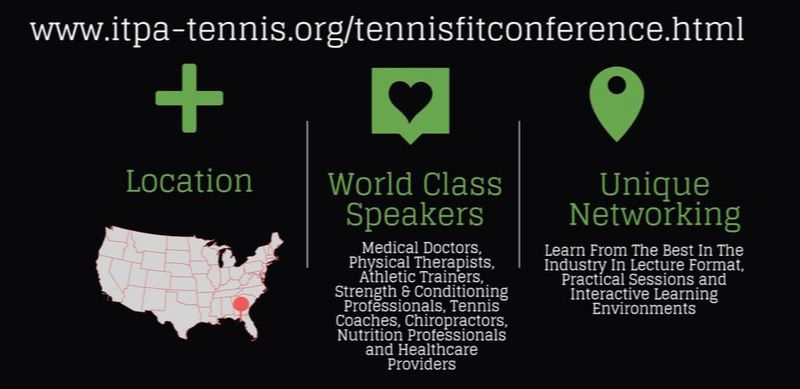 ---
2017 Sponsors:

---
NormaTec recovery systems are cutting edge compression solutions that enhance the body's natural ability to recover. The NormaTec Systems utilize a patented massage pattern – "NormaTec Pulse Technology." Using NormaTec's full length leg compression boots, arms, and hips before or after intense workouts and games rejuvenates muscle tissue and dramatically reduces tightness and soreness.

Invented by an MD, PhD and perfected by professional athletes, NormaTec Recovery Systems are the go-to equipment for the world's best and the face of recovery within elite athletic spheres everywhere.

For more information, visit:

NormaTecRecovery.com

Marc Pro's mission is to help athletes recover quicker, relieve pain, and do more of what they love…better. Marc Pro is an EMS device that uses unique technology to move nourishment and waste, the basis of post-exercise recovery, in the most comfortable, fastest and effective way possible."

http://marcpro.com/



All racquets have XēneCore's patent-pending and high-tensile-strength XēneCore™ material that was introduced in the original Donnay X-Series.

http://www.xenecoretennis.com/
---
---
---
Hotel Information:

DoubleTree by Hilton Atlanta-Marietta: MAIN RECOMMENDED HOTEL. SPECIAL RATE and SHUTTLE
2055 South Park Place, Atlanta GA 30339-2014 Tel: 770-272-9441
Complimentary internet,
**FREE SHUTTLE TO AND FROM LIFE FOR THE CONFERENCE**
Call 770-272-9441 and ask for the "Life University" Rate or use this link:
https://secure3.hilton.com/en_US/dt/reservation/book.htm?ctyhocn=ATLWYDT&corporateCode=002698200
Drury Inn & Suites - Northwest Atlanta
1170 Powers Ferry Place
Marietta, GA 30067
(770) 612-0900
For reservations at Life University Rates Click HERE
Country Inn & Suites - Atlanta NW
4500 Circle 75 Parkway
Atlanta, GA 30339
(800) 830-5222.
For reservations at Life University Rates
click HERE
Nearby Hotels (No Special Life University Rates)
Hyatt Regency Suites Atlanta Northwest

2999 Windy Hill Road, Marietta, GA 30067 Tel: 770-956-1234

www.AtlantaSuites.Hyatt.com
Please note these rooms are all suites.
Courtyard Atlanta Cumberland Center
3000 Cumberland Blvd · Atlanta, Georgia 30339 Tel: 770-952-2555
www.marriott.com/hotels/travel/atlcu-courtyard-atlanta-cumberland-center/
Courtyard Atlanta Marietta/I-75 North 2455 Delk Road
Marietta, Georgia 30067 (770) 956-1188
Normal rate: $109
Marriott Atlanta Northwest
200 Interstate N Pkwy SE Atlanta, GA 30339
770-952-7900
*Based on Availability and there are times that special corporate rates are not available - high occupancy, conventions etc.
Campus Map
http://www.life.edu/wp-content/uploads/2014/08/LifeU-3D-Map-Final-102013.pdf