*IMPORTANT NOTE: This Player Camp has been postponed until 2014.
Please check back for the new date, and thanks for your interest.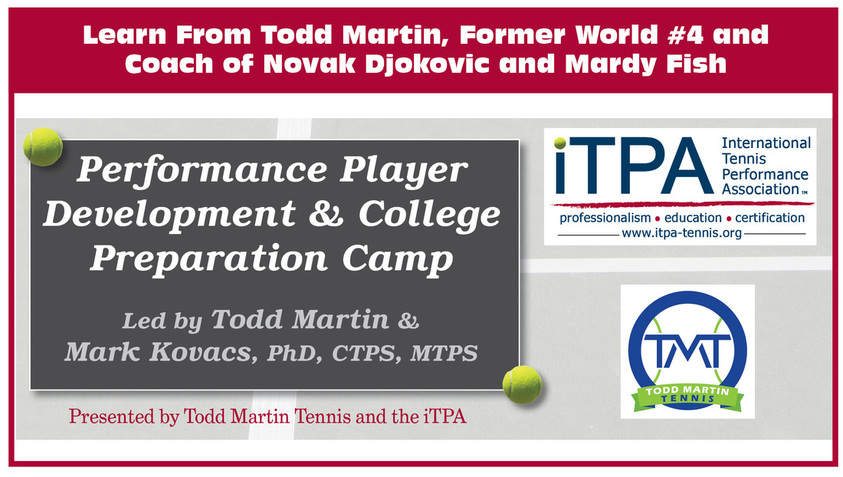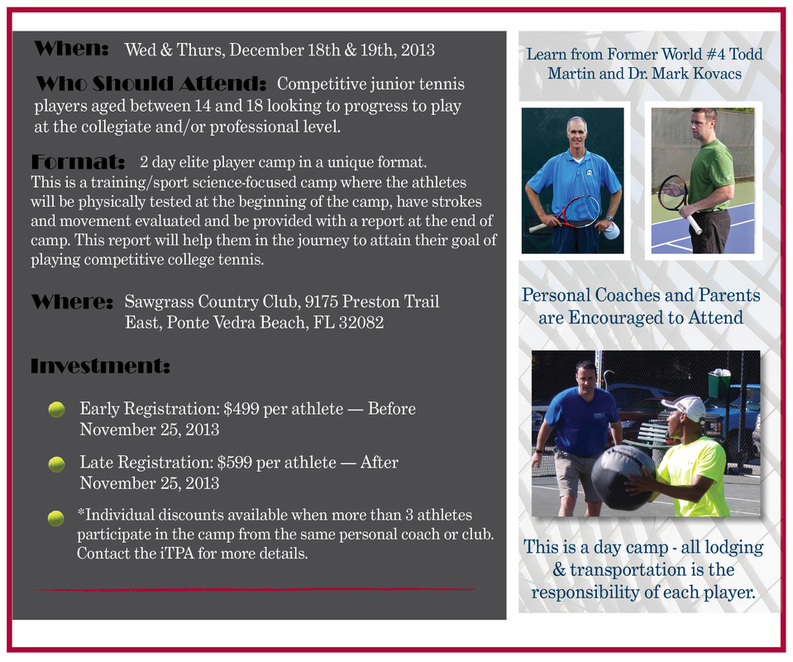 ---

A competitive junior development training camp led by Todd Martin (Davis Cup Legend, ATP ranking #4 in the world and Coach to Novak Djokovic & Mardy Fish) and Dr. Mark Kovacs (NCAA Champion, Tennis Fitness & Sport Science Expert who has worked with dozens of top professionals including John Isner)

Train with Todd Martin and Mark Kovacs, PhD in a unique training camp format using the latest sport science information to help the junior player on the path to a college tennis career. The player will be immersed in an elite environment with over 16 hours of elite training & instruction and will learn the secrets of the top college and professional players. This environment is specifically focused on ages 14-18 who are planning on playing collegiate tennis.

Before the camp a solid understanding of each player will be gained through each athlete (and each athlete's personal coach) completing a survey to help customize the experience for each athlete based on goals, strengths and opportunities for improvement. Each athlete will leave the training camp with a detailed report highlighting areas of strength and also areas for opportunity which should help increase the speed of improvement before college.

*Todd and Mark encourage the player to bring their private coach to participate in the camp to be involved in all aspects of the training environment.

Learning Outcomes:

The player will better understand how to better utilize his/her time on court and gain improvements at a faster pace
The player will learn the fitness secrets of the top college and professional players and how these same exercises and drills can be applied
The player will train with and compete against other players at a similar level, as well as a higher level.
Coach and player will have unique opportunity to be educated together. Therefore enabling better continuity and effectiveness in what is advised by Mark and Todd.

Pre-Requisites To Attend (Standards and Expectations for This Camp Will Be Very High):

Passionate about tennis
Train at least 3 days per week
Have a national ranking and/or standing on college recruiting lists (i.e. tennisrecruiting.net)
Willing to train, learn and compete for 16 hours over 2 days
Have a good base level of fitness

About Todd Martin and Mark Kovacs:


---

Todd retired from the Tour following his participation in the 2004 U.S. Open, his fifteenth consecutive U.S. Open. He was a two-time Grand Slam finalist (1999 US Open and 1994 Australian Open) as well as four-time Grand Slam semifinalist, in addition to holding eight career singles titles and five doubles titles. Career High ATP World #4 ranking and member of US Davis Cup Team (1994-2002), including Champion Team (1995).

Following his retirement, Todd coached ATP Tour professionals Novak Djokovic and Mardy Fish as well as continuing to assist in the development of several top Tour and junior players. He is Managing Partner of Todd Martin Tennis.



---

Dr. Mark Kovacs, Phd, CTPS, CSCS

Dr. Mark Kovacs is a performance physiologist, researcher, author, speaker and coach with an extensive background training and researching tennis players. He formally directed the Sport Science, Strength & Conditioning and Coaching Education departments for the United States Tennis Association (USTA). He was an All-American and NCAA doubles champion in tennis at Auburn University and earned his PhD from the University of Alabama. He is a Certified Tennis Performance Specialist (CTPS) through the iTPA, and in 2012 he was the youngest ever recipient of the International Tennis Hall of Fame Educational Merit Award. He has worked with more than two dozen top professional tennis players on all aspects of physical training including John Isner, Robby Ginepri, Ryan Harrison and Sloane Stephens.
---