Master Tennis Performance Specialist (MTPS)
Highest Level Tennis Fitness Certification

Next MTPS: TBD in 2018
Kennesaw, GA, USA



MTPS Testimonial


Click HERE for a blog post by recent MTPS Dominic King touching on his experience with MTPS!

MTPS is the highest tennis fitness certification reserved for tennis-specific specialists with significant experience, expertise and contributions to the industry.

Must have obtained CTPS designation.

MTPS certification involves an in-person workshop/exam, pre-work and post work.

*If you feel you already have the qualifications,

including the 1000 hours of practical experience working with HIGH LEVEL tennis athletes

or you have already gotten approval from us, go ahead and register for MTPS.

Pre-Requisites:

Must have successfully completed and passed the Certified Tennis Performance Specialist (CTPS) exam and currently hold the CTPS designation (good standing with dues paid)
> 1000 hours of practical experience working with HIGH LEVEL tennis athletes
Must have current CPR card

Other Info:

250 Continuing Professional Education (CPE) Credits required every two years
$89 yearly dues (only charged once for CTPS/MTPS, not double billed)
$49 re-certification fee every two years (only charged once for CTPS/MTPS, not double billed)
No refunds even if you are not able to attend at the last minute. We will work with you on attending the next one.
Please note that in addition to the 3-day in-person program, pre-work and post work will also be required.
Held at Marietta Country Club in Kennesaw, GA (near Atlanta)
Deadline for this year's registration is August 12th but we recommend registering as early as possible. We will cut off registrations if we fill up before that date.
---
Cost: $895
(Included in the costs: All study materials in electronic format required for successful completion of the MTPS requirements.
*Note: Want a payment plan? Contact us!
3 Day In-Person Program (Friday, Saturday, Sunday):

What is Provided?
MTPS Course Outline and Review Materials
iTPA On the Road Training Bag (including everything you need to train a tennis athlete on the road - elastic tubing, resistance bands, recovery tools, etc.)
Special products and product discounts only for MTPS participants
On Successful Completion of All Requirements to achieve the MTPS designation:
MTPS framed Certificate
MTPS certified logo files to be used on business cards, personal and business websites
Testimonials from the iTPA
A formal press-release announcing your new educational status and a strong promotional tool that the iTPA will help circulate to your employer, parents, players, etc.
Greater opportunities to contribute to the tennis and fitness communities through paid opportunities.
Requirements to Obtain MTPS:
After being accepted into the MTPS program (see eligibility requirements - these are STRICTLY adhered to) the participant will be required to pursue a rigorous educational curriculum involving a combination of online learning, face-to-face learning and proof of knowledge, skills and abilities through in-person and video based instruction. The MTPS program involves a 21 hour in-person practical learning session (3 days) as the core of the program. Before the 3 day learning session, online/self-study pre-work must be completed and following the 3 day learning session post work requirements will be required.
Pre Work involves 2 quizzes

3 Day In-Person MTPS Program Outline: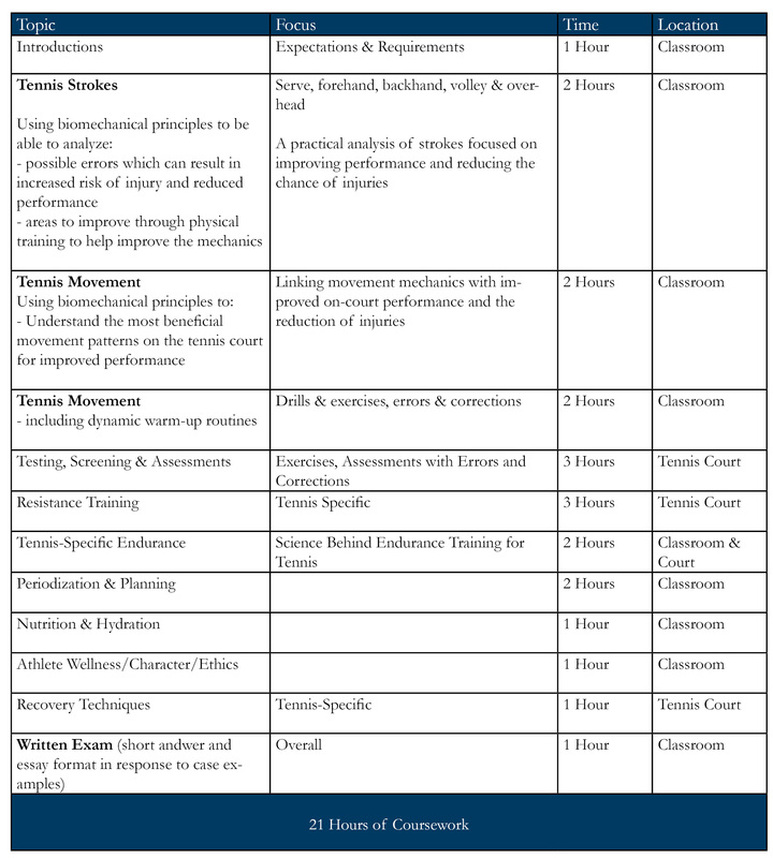 Post Work:

Post Work (due within 10 weeks of course): Following the in-person program the participant will be evaluated on his/her comprehension and ability to apply the information learned from both the CTPS and MTPS curriculums. This evaluation will involve the participant working with one or more of his/her tennis athletes and the requirements for the post-work include a detailed video session (120 minutes) broken into the following 6 areas:

1) Testing/Screening
2) Dynamic Warm–Up
3) Tennis-Specific Movement Training Sessions (on-court)
4) Tennis-Specific Strength Training Session (either in the gym or on-court).
5) Post Training or Match Stretching & Recovery Routine
6) Shoulder, Hip and Core Prehab/Injury Prevention Routine

Written Final Examination:

Focused on Specific Case Studies. The participant chooses 3 case studies (from the provided list) and has to answer 3 specific questions for each case study:

Follow-Up Call:

1-hour Follow-Up Call With Course Instructor to Discuss Answers and Review Materials and also to discuss next steps in Career Planning.

Venue:
Marietta Country Club

Marietta Country Club
1400 Marietta Country Club Drive
Kennesaw, GA 30152
770-426-1808

*Lodging and travel arrangements shall be paid by participant, not iTPA. iTPA will provide lunch during Friday and Saturday and dinner Saturday night, in addition to water, soft drinks and coffee during the day.
---
---