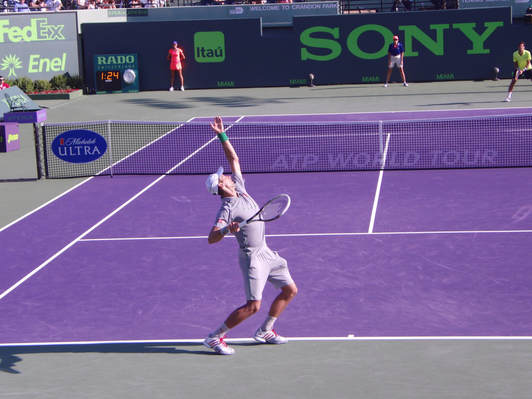 By Patrick Aubone
For the first time in as long as I can remember a Grand Slam lacked star power on the men's side. The list of casualties from the top 10 was pretty big: Andy Murray (hip), Novak Djokovic (elbow), Milos Raonic (wrist), Kei Nishikori (wrist), Stan Wawrinka (knee). Five of the top 11 players in the world missed the US Open this year. Last year Roger Federer took the final 6 months of the year to recover from an off court knee injury while Rafael Nadal has been battling injuries for years.
This year at Wimbledon, the men's draw alone had 7 first round retirements and 11 total in the first 2 rounds. According to an ESPN, since Wimbledon 2007 there have been 237 retirements in Grand Slam tournaments for men alone. This is an astounding number!
Are all these retirements due to the schedule? Too much travel? Off court stress? Looking at the ATP Tour website, post US Open, Alexander Zverev and Roberto Bautista Agut lead the top 10 players in matches played with 76 and 71. That doesn't take into account the upcoming indoor season and year end tournament. Nadal is a close third with 67 matches played, Federer is at 41, and Del Potro is at 46. Federer has only recently had some injury problem with his knee and most recently his back but prior to age 33 he only experienced an ankle issue one year and still came back for the season ending tournament. Del Potro aside from his multiple wrist surgeries has had an injury-free career though he is still young at 28. Outside of the top 10, Goffin and Theim are the only players above 75 matches.
How much is too much?
The players travel 25-35 weeks a year between tournaments, preseason camps, and home visits. While some individuals can argue that Courier, McEnroe and Lendl all played 85+ matches in the past, there are many variables that have changed. The athletes are stronger, faster and fitter than ever. Matches are going 5+ hours in Grand Slams with the winner having 36 hours to recover before playing again. The physical toll on the athlete's body after these matches is tremendous. Technology has played a part in developing more powerful racquets allowing players to hit harder and add more spin to the ball. It has also played a big part in the recovery process with such innovations as compression garments by 2XU & Body helix, Pneumatic Compression like Normatec or Recovery Pump Boots and non-fatiguing Muscle Stimulation machines like the Marc Pro Plus. We aren't even taking into account Central Nervous System (CNS) fatigue, travel related fatigue, family and social fatigue and other aspects of being a year round traveler. Is it time to change the calendar or maybe slow down technological advances in racquets and strings, adjust the court surfaces, etc?
Even though the increase in top star players injuries is the focus of many articles (see below), the actual yearly data of overall injuries on the ATP World Tour is actually rather consistent with years past. It is just that we have for the first time a large percentage of the Top 10 players unable to play a major championship (the US Open). As a result, it attracts major attention and shines a light on injuries in the sport. However, it is always important to look at the data and understand what is actually happening.
https://www.nytimes.com/2017/07/06/sports/tennis/players-pull-out-at-wimbledon-and-calls-for-reform-flood-in.html?mcubz=0&module=ArrowsNav&contentCollection=Tennis&action=keypress&region=FixedLeft&pgtype=article
http://www.nytimes.com/2011/09/04/sports/tennis/pro-tennis-season-can-nearly-a-year.html?mcubz=0
http://www.atpworldtour.com/en/performance-zone/win-loss-index