By LaRue E. Cook
Certified Tennis Performance Specialist
Certified Strength and Conditioning Specialist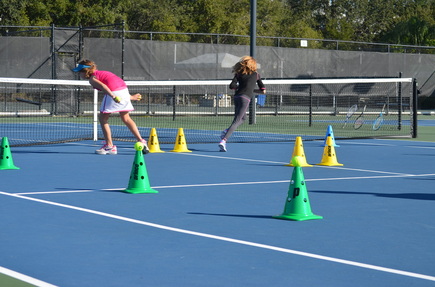 As I constantly remind ALL of my clients - whether they are tennis athletes wanting to improve their performance, or general fitness clients needing to improve their general health and fitness - "nothing in sports performance or general health and fitness is a straight-line progression!" What I mean by this is that as humans, we might see great progress in what we do one day, and then see it all seemingly come crashing down the next. Whether it's in practice on the court, or training in the gym, each day is different, and poses a challenge even to elite athletes; it's what being human is all about. In tennis, this concept often smacks us right in the face as the shots we or our athletes made last week or even yesterday, seem elusive today. The key to developing a player who can handle these ups and downs is to practice how we, as the player's support system, also handle these swings in performance. Here's what I mean.

Whether it's perfecting a player's technical tennis skills, or improving their fitness and conditioning, there will always be peaks and valleys on the road to progress. This is something that coaches, trainers and parents should be aware of, accept, and learn how to use to affect a positive attitude in their tennis athlete.

Coaches, Trainers, and Parents of tennis athletes, have a very important role as that athlete's support system and in how our athletes react to the ups and downs of tennis performance. How we react to the ups and downs of tennis, and more importantly how we teach our athletes to deal with them, can make all the difference between 'success' and failure.

Staying positive and focusing on what's going 'right' rather than always focusing on what needs improvement, what went wrong or what is missing, is vitally important to building an athlete's confidence and encouraging them to strive for better.

Here's one example of what I mean: During a tennis match your player hits a deep approach shot, adeptly moves into the court positioning herself for a volley, anticipates her opponent's passing shot attempt, and then badly misses the volley. What do you see, and more importantly what do you react to? Do you see, and focus on the great tactical play she made to put herself in position to make the volley? Or, do you focus on, and react to, the missed volley?

Coaches, Trainers and Parents are teachers, motivators and leaders. Your athlete picks-up on many of cues that they get from you, spoken or unspoken. Slumped shoulders, that unmistakable look to the heavens, or a grimace can all signal 'failure' to a sensitive athlete, and can diminish their desire to take such 'chances' or employ such tactics in the future.

So, the next time you watch your athlete during play or training, try to see what went right. Of course this doesn't mean that you need to ignore the mistake, but instead that you use any setback as a learning experience, not as a source of negativity. You will be amazed at how this simple change in focus and attitude will have a positive impact on your athlete, and spur them on to want to improve, and to take tactical chances in performance when they present themselves. So remember, teaching our athletes to be unafraid to take tactical risks and to focus more on the process rather than the results has a lot to do with our Reaction!

About the Author: LaRue is a CTPS, CSCS and also holds specialty certifications as a Youth Conditioning Specialist. LaRue travels the US providing specialty training and programming to Country Clubs and other organizations, working with tennis players and other athletes providing one-on-one and team Strength and Conditioning and Post-Rehab training. LaRue also serves on the Board of Examiners for the National Board of Fitness Examiners.