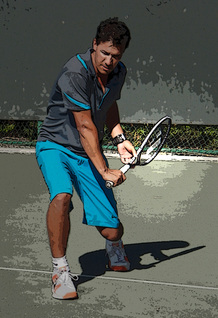 New Workshop announced! Movement and Speed for Coaches will be held Saturday, October 5th from 9 am to 12 pm in Atlanta, GA. Let by iTPA Executive Director Dr. Mark Kovacs, this three hour on-court workshop will provide specific drills and exercises to develop tennis-specific movement speed, agility and quickness. Improving tennis-specific movement is paramount to success on the court at every level of the game. The format of the course is designed to allow the participant to learn the best methods and progressions and how to link these drills and exercises with strokes and strategy. The entire course will be on-court and in an interactive format to ensure a full understanding of how these drills and exercises can be implemented into your lesson plans.
Come and join your fellow professionals in a unique format that will allow significant interaction and case examples with scenarios that you encounter every day with your players. Worth 50 iTPA Continuing Professional Education Credits.
Visit this webpage to register
When:
Saturday, October 5th, 2013
9 am - 12 pm EST
Where:
Georgia Gwinnett College Tennis Facility
100 Countryside Place
Lawrenceville, GA 30043
(404) 374-9750
Price: $30 for iTPA Members, $50 for non-iTPA members
. If registered as a member, iTPA staff will check and if not a member send you an email with an invoice for $20.
Worth 50 iTPA CPE credits