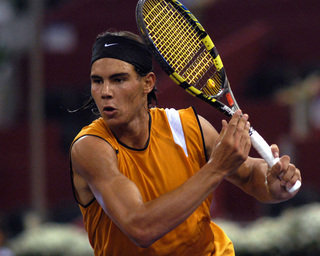 Rafael Nadal has withdrawn from the 2012 US Open unable to fully recover from knee pain since after Wimbledon. This injury has kept him from competing in the Olympics and also any of the US hardcourt tournaments. It is reported to be a different knee problem that has sidelined him in the past, but he has shown that the area around his knees have caused him major problems throughout his career. It is always a major concern when one of the greats of the game cannot play a Grand Slam event. This situation gives us a chance to look at possible causes and cures for his knee problems. Although every individual case is different it is important to make sure that your training for tennis athletes involves limiting the chance of knee related problems. We know that the knee is one of the top 5 most common injury locations for tennis athletes. Listed below are some articles available on the web focused on knee injuries.
Statement from US Open Tournament Director David Brewer on Rafael Nadal's Withdraw from the 2012 US Open:
"Rafa has informed us that he will not be ready to compete at the US Open this year and has withdrawn from the tournament. We hope to see him back on the court soon and look forward to his return to New York next year."
Statement from Rafael Nadal:
"I am very sad to announce that I am still not ready to play and
have to withdraw from this year's US Open in NYC. I am sorry since I always
found great crowds and great support, but I have to continue with my recup and
preparation to be ready to play in the right conditions. I want to say hi and
thanks to all the fans, in particular to the New Yorkers. I'll miss you all this
year at the Open!"
Knee Injuries In Tennis Players (Pete Sallay)
http://mykneehurts.info/knee/?p=73
Injury Prevention:
Knee Injuries (Eric Price)
http://longislandtennismagazine.com/article1172/injury-prevention-knee-injuries
Musculoskeletal Injuries in Tennis (Perkins &Davis)
http://www.med.nyu.edu/pmr/residency/resources/PMR%20clinics%20NA/PMR%20clinics%20NA_sports%20med/MSK%20injuries%20tennis.pdf