Junior tennis injuries are starting to get more media attention as youth sport injuries have increased over the past decade; it is more common to see surgeries performed on young athletes for overuse injuries. Much of this media attention stems from other sports like baseball and football, but tennis is also one sport where overuse injuries is an area that every coach, parent, tennis performance trainer (TPT) and Certified Tennis Performance Specialist (CTPS) should hold a strong education. Many of these injuries, and even surgeries, used to be only performed on college and adult athletes. Fortunately for tennis, the average young tennis player experiences relatively few severe injuries and is considerably lower than many other sports [
1
]. However, overuse is a concern in competitive young tennis athletes. Although injury rates and types of injuries are not as well researched as in some other sports (i.e. baseball, soccer, etc.) some interesting data exists that can help us better understand young tennis athletes and the typical issues that they see. Over a multiyear period a major junior national tennis tournament 21% of participants sustained an injury [
2
]. Over the last few decades research has been inconsistent about where the majority of tennis injuries occur. Earlier research showed that a large percentage of injuries occurred in the lower body [
3
]. However, more recent research has showed that upper body and core injuries are becoming more prevalent [
4
]. This is likely due to the change in technique (more open stance movements and greater reliance of upper body in stroke production, the slower surfaces and new technologies in the racket and strings.)
One unique study involved a series of questions on training, technique, competition and other factors that was provided to all participants at the largest junior team tennis event in the US [
5
]. It was collected at 12 different locations and 861 junior tennis players completed the survey:
- 97% of individuals who completed the study
Gender breakdown:
males-43% (356);
females-57% (N=476).
Age: 10-17
As the goal of the study was to evaluate injury patterns and trends a clear definition of injury was important.
"An event that forces a player to miss 3 or more consecutive days of tennis play, either practice or competition, or that requires medical attention from a trainer, therapist, or doctor."
Major Findings From This Study
For both the 12 and under and 14 and under age group the shoulder was the most often injured area. However for the 16 and under age group the back was the most commonly injured area.
Only 51% and 54% (male and female) of respondents use free weights and only 38% and 39% use machines.
Only 43% and 58% (male and female use medicine ball during training).
90% and 97% (male and female) use a double-handed backhand
20% and 22% (male and female) use an abbreviated/short service motion
83% of all players predominantly train and play on a hardcourt surface
81% of all injuries in junior tennis players were tennis related
51% of all athletes that reported an injury visited a Physician or Physical Therapist
Below are three charts that provide the breakdown of the location of injuries based on the three different age groups (12 and under; 14 and under; 16 and under).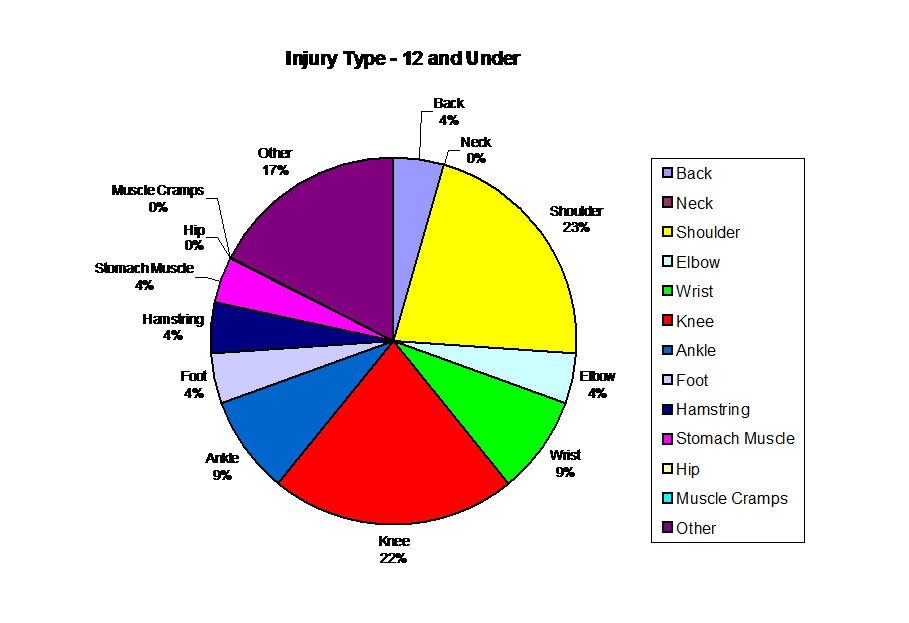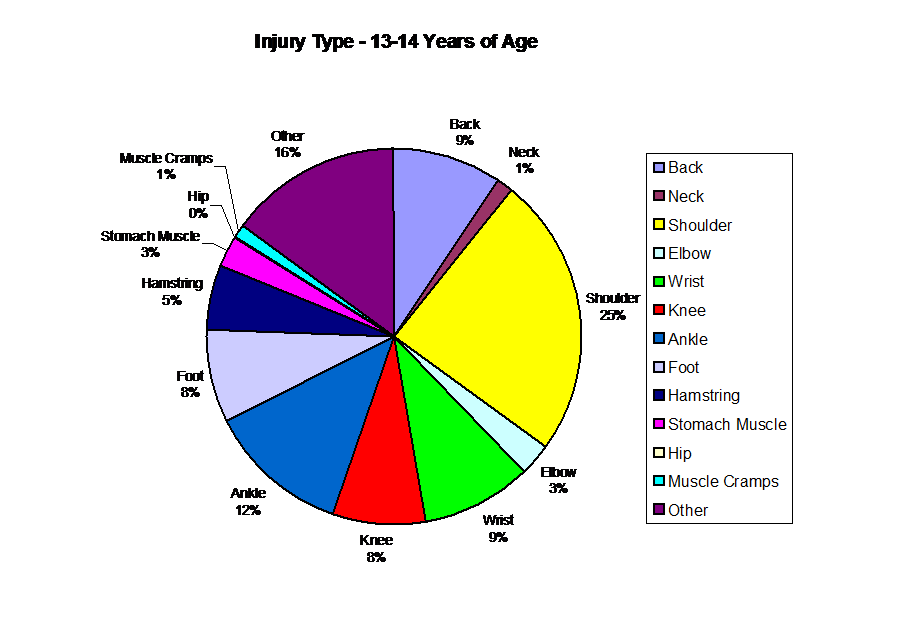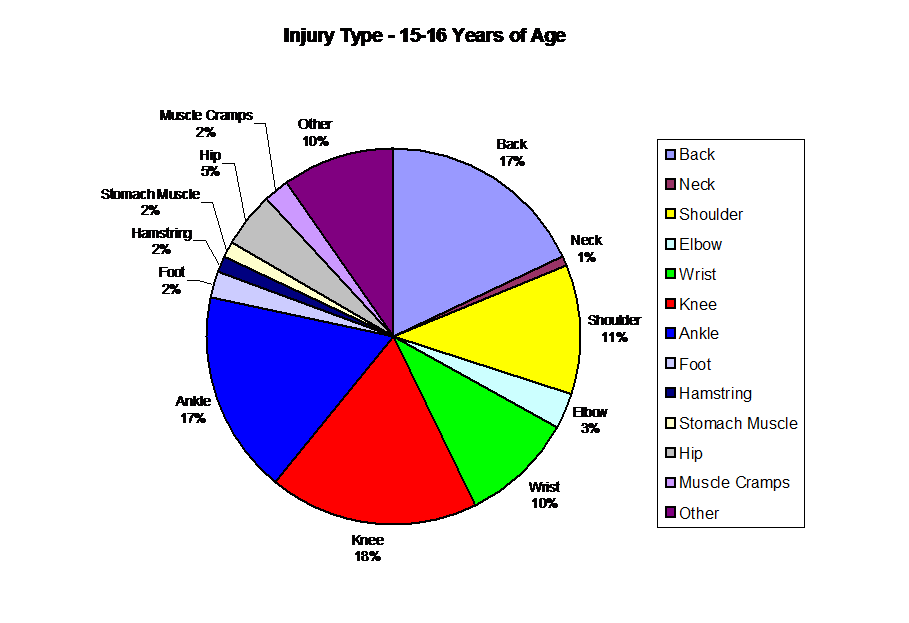 When all the data was pooled together the following showcases the most common injury areas in the junior players who participated in this study (male and female combined ages 10-17)



Summary:
The shoulder and back are two major areas that need a greater focus in training and injury prevention programs. The high prevalence of hardcourt tennis play is something that needs to be taken into account when devising on and off-court training programs. The increase in injuries as athletes' age through their junior career is also something that should be of major interest to coaches, trainers and administrators. More education is needed to ensure that appropriate understanding of volume and injury prevention programs are implemented to help reduce the likelihood of injuries in junior tennis players. This is something that requires good communication between tennis coaches, certified tennis performance specialists and parents to ensure that the young tennis players develop and optimize performance while limiting the occurrence of injury.
1. Kibler, W.B. and M. Safran, Tennis Injuries, in Epidemiology of Pediatric Sports Injuries, D. Caine and N. Maffuli, Editors. 2005, Base, Karger. p. 120-137.
2. Hutchinson, M.R., et al., Injury surveillance at the USTA boys' tennis championships: A 6-yr study. Medicine and Science in Sports and Exercise, 1995. 27(6): p. 826-30.
3. Reece, L.A., P.A. Fricker, and K.F. Maguire, Injuries to elite young tennis players at the Australian Institute of Sport. Aust J Sci Med Sports, 1986. 18: p. 11-15.
4. Winge, S., U. Jorgenson, and L. Nielson, Epidemiology of injuries in Danish championship tennis. Int J Sports Med, 1989. 10: p. 368-371.
5. Kovacs, M.S., et al., Demogrpahic data and injury trends in American national junior tennis players. Journal of Strength & Conditioning Research, 2012. 26(1): p. S62.