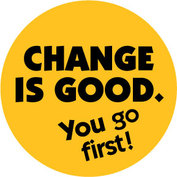 "Disruptive Innovation." ― An innovation that creates a new market by applying a different set of values, which ultimately and unexpectedly overtakes an existing market.

Do you remember the days before computers? How about Ipods and cell phones? These innovations forever changed our daily lives and even the way we think and do business. Now it's standard practice to use all these devices and we couldn't image life without them.
Years ago the fitness industry had no NSCA, ACSM, NATA, etc. But since anyone can call themselves a "Personal Trainer," these organizations were created to raise the level of knowledge, expertise and confidence in the industry. In those organizations' early days, the industry resisted and asked the question "why should we get certified when it's not required, costs money and I've never had to before?" But, after some early adopters saw the value, benefit and need for it and became certified, the industry slowly started to take note. Now, of course, these organizations have thousands of certified members and are very well-respected. Employers ask what certifications a prospective employee has (and if none, this usually sets the person to the back of the list). The general fitness industry has accepted certifications as a norm and something that makes the industry better. These type of companies, whether IBM with the personal computer, Apple with Ipods or certification organizations in the fitness industry, fall into the category of "Disruptive Innovation." This term was coined by Clayton Christensen and describes an innovation that creates a new market by applying a different set of values, which ultimately and unexpectedly overtakes an existing market.
The tennis industry has many positives. It's a sport you can play for life. The health benefits are numerous, especially compared to other sports. It's a sport that all ages can participate in. Our goals at the International Tennis Performance Association (ITPA) are to be the worldwide leader in tennis-specific health, performance, injury prevention education and certification; to be the evidence-based authority in tennis; and to increase the level of tennis-specific training education, knowledge and expertise and promote ITPA-certified members. Tennis coaches who also do the physical training, personal trainers, athletic trainers, physical therapists and other specialists working with tennis players generally have a good reputation. However, there is a need to increase the tennis-specific evidence-based knowledge for all these practitioners and coaches. Help us spread the word and like the general fitness industry, recognize the need for higher tennis-specific knowledge, continuing education to continue developing that knowledge and recognition of expertise from ITPA certified members through employers, parents and players. If you are a club owner, player or parent, encourage your trainer, tennis coach, physical therapist, etc. to become ITPA certified. Help the ITPA become a "Disruptive Innovator" and change the way tennis is trained, while improving the level of quality in the tennis industry as a whole. We love tennis and only want to see it increase in numbers, popularity and expertise. We'd love to hear your comments!