By Joshua Colomar (iTPA) and Mark Kovacs, PhD, CTPS, MTPS (iTPA)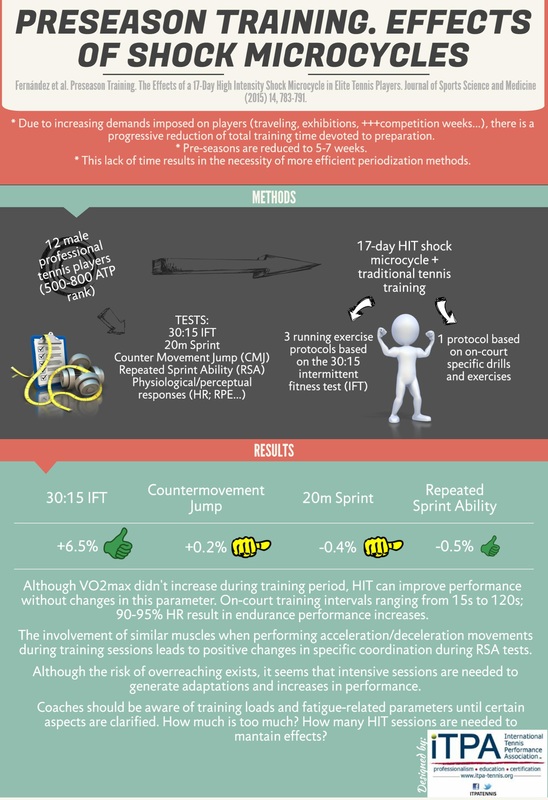 The calendar of a tennis player at the junior, collegiate or professional level is increasing each year. The demands have increased with exhibition events, a more robust tournament schedule and sponsor events, which have added to an already loaded year round competitive calendar. This leads to less time for coaches to program and periodize preseason periods. While technical and tactical issues tend to be the most important aspect during players' training, it is challenging to develop the much needed physical aspects during a shortened preseason period. We know from the research that it takes a significant number of weeks to develop strong strength and hypertrophy gains. As a result, newer techniques are developed to approach training during preseason. High Intensity Training (HIT) is a rather common technique that is being utilized more. A shock microcyle (an increased intensity of work over a short amount of time) in combination with technical/tactical work could offer enough stimulus for positive adaptation in a time efficient manner for preseason training. A recent study by Fernandez et al (2015) can offer some preliminary insights.
12 male professional tennis players (500-800 ATP Ranking) performed a 17-day HIT shock microcycle in addition to conventional tennis training. The program was formed by 3 running protocols based on the Intermittent Fitness Test (IFT) and one protocol based on on-court specific drills ('Big X'; 'Suicide'; 'Recovery/Defensive'…) Data was collected from different tests:
30:15 IFT
20m Sprint
Countermovement Jump (CMJ)
Repeated Sprint Ability (RSA)
Physiological and perceptual responses (Heart Rate, RPE…)
Results indicated major increases in velocity during IFT (6.5%) and average increases in repeated sprint ability (0.5%). CMJ and 20m sprint remained statistically without significant differences.
Increases in IFT velocity didn't correspond with increases in VO2max. Studies have demonstrated that endurance can be enhanced without changes in this parameter. These results indicate that training intervals ranging from 15s to 120s at 90-95% of HR result in specific endurance increases.
Regarding RSA improvements, specificity of training that involves similar muscles and acceleration/deceleration patterns result in positive changes in specific coordination during RSA tests.
The major concerning aspects of this type of training is the risk of overreaching/overtraining or potential injury. High intensity bouts at initial stages of season added to normal training can result in highly fatigued athletes. Further studies should be carried out to establish "how much is too much?'' and "how much is needed to maintain gains?'' Until then, coaches have to be very aware of load control and fatigue-related parameters like RPE, soreness, recovery quality, sleep parameters, heart rate variability measures, etc.
As coaches, we need to monitor, control and better quantify the load players are exposed to during training. HIT can be considered as a viable addition to a preseason training plan, with appropriate monitoring and understanding of the increased fatigue that is likely to occur to the athlete. Some studies revealed the validity of RPE as an effective method for quantifying load in tennis sessions. It's the case of Gomes et al. (2015) in which RPE applied to 12 tennis players in 384 on-court tennis sessions; 23 simulated matches and 13 official matches were compared to heart rate values (internal load in this case) for the same players in the same situations. Results gave high correlation between both values and offers an easy technique that doesn't require sophisticated equipment. This heart rate monitoring allows for relatively low cost monitoring for coaches and tennis performance specialists. Nevertheless, future investigations are needed to demonstrate validity of RPE for recovery aspects, overall season progression and fitness workouts in which specificity, volume, intensity, density and many physical parameters are involved in training.
To learn more about the science and practical application of physical training for tennis, please look into becoming a certified member of the International Tennis Performance Association (iTPA).
www.itpa-tennis.org
. Learn the latest about tennis specific training and injury prevention at the 2016 WORLD TENNIS FITNESS CONFERENCE (July 30/31st, 2016 in Atlanta, Georgia alongside the BB&T ATLANTA OPEN)
www.itpa-tennis.org/tennisfitconference.html
References:
Fernández et al.
Preseason Training: The Effects of a 17-Day High-Intensity Shock Microcycle in Elite Tennis Players
. Journal of Sports Science and Medicine (2015) 14, 783-791.
Gomes et al.
Ecological Validity of Session RPE Method for Quantifying Internal Training Load in Tennis.
International Journal of Sports Science & Coaching Volume 10 · Number 4 · 2015.