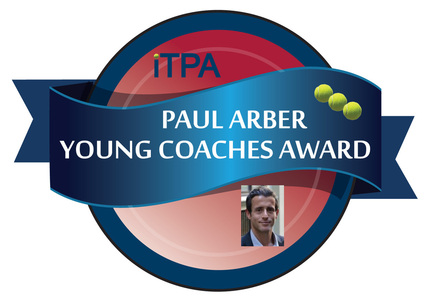 2015 Nominations now open through April1 for second annual Paul Arber Young Coaches Award!
Paul Arber was a Australian Tennis Coach liked by all who knew him. He demonstrated character, hard work, determination, inspiration, commitment to continuing education and mentorship, and this annual award is dedicated in his honor. This coaches award is open to tennis coaches worldwide under the age of 30, and the winner will be awarded $1000 good on any iTPA educational materials, including tennis fitness certifications.
The Paul Arber Young Coaches Award is meant to provide a deserving young tennis coach with the means to expand his or her tennis fitness knowledge and expertise.
To be considered, a coach can self nominate, or you can nominate a deserving coach at your facility or a colleague who you feel is worthy of this coaching award. Please
email the iTPA
with a copy of the resume and a 500-word essay on why this award would help the person in his or her career and why you feel they deserve this award. Also include how tennis fitness continuing education will help in their careers.
WINNER will receive:
A $1000 award good on any iTPA products, including tennis fitness certifications.
Press release highlighting winner as the Paul Arber Coach Young Award Winner.

Prize Package including 2 Donnay Tennis Racquets, Tennis String, and Thera-Band Tubing.


Paul Arber Young Coaches Award Webpage