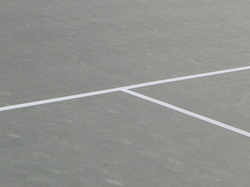 Tennis is one of the few sports that require the players to transition through different surfaces on a regular basis. Although there are dozens of different surfaces around the world, for sake of discussion there are three major groups of surfaces that players typically compete on: hard-courts, clay-courts and grass-courts. These different court surfaces result in different movement requirements due to the speed, cushioning and friction of the court. The eminent University of Pennsylvania Physicist and tennis sport scientist Dr. Howard Brody found that the horizontal frictional force greatly effects ball speed and is a determining factor in court speed (Brody, 1995). There can be as much as a 15% difference in ball speed after the bounce, depending on the court surface. Typically a clay-court is slower than a hard-court. This reduction in ball speed allows athletes more time to reach the ball, therefore lengthening the duration of points played on clay-courts. A computerized notational analysis of 252 professional singles matches found that rallies on clay courts at the professional level were significantly longer than any other surface (O'Donoghue et al 2001). In a study looking at the percentage of baseline rallies at the four Grand Slams found:

• French Open (claycourt) 51%
• Australian Open (hardcourt) 46%
• US Open (hardcourt) 35%
• Wimbledon (grass) 19%

Another interesting difference between surfaces is that on hardcourts professional players are under increased time-pressure 45% of time, compared with only 29% on clay-courts (Pieper et al 2007). Therefore, court surfaces do play a role in the movement requirements of tennis athletes and training needs to be adapted based on these differences.

These studies just highlight the need for different focused training based on the type of surface that the athlete will be training and competes. It is important to take into consideration the surface and the workloads that are involved in the different surfaces when focusing on tennis-specific movement training.

References:

Weber, K., S. Pieper, et al. (2007). "Characteristics and significance of running speed at the Australian Open 2006 for training and injury prevention." Medicine and Science in Tennis 12(1): 14-17.