Speed, Agility and Movement Workshop for Tennis Coaches
This Specialty In-Person Workshop is offered by the International Tennis Performance Association.

Thanks to all who attended!



Presenter:


---

Dr. Mark Kovacs, Phd, CTPS, MTPS, CSCS

Dr. Mark Kovacs is a performance physiologist, researcher, author, speaker and coach with an extensive background training and researching tennis players. He formally directed the Sport Science, Strength & Conditioning and Coaching Education departments for the United States Tennis Association (USTA). He was an All-American and NCAA doubles champion in tennis at Auburn University and earned his PhD from the University of Alabama.. He is a Certified Tennis Performance Specialist (CTPS) through the iTPA, and in 2012 he was the youngest ever recipient of the International Tennis Hall of Fame Educational Merit Award. He has worked with more than two dozen top professional tennis players on all aspects of physical training including John Isner, Robby Ginepri, Ryan Harrison and Sloane Stephens.


From our Partners: PTR Conference during Wimbledon 2014 June 22 - 23: Click below to register.

http://www.ptrgb.org/ptr-gb-wimbledon-conference/


---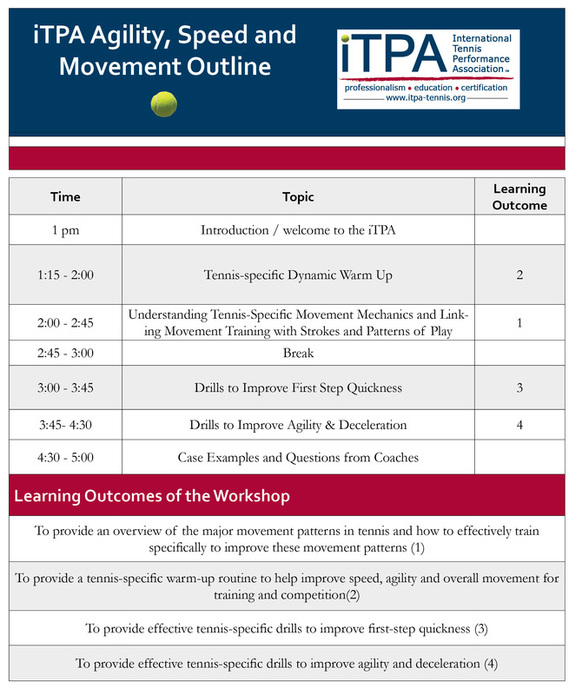 ---
Worth iTPA CPE Credits


What:

The four hour workshop aims to begin to teach the theory behind speed, and movement on the tennis court, and as a coach how you can implement practical exercises to help improve a range of tennis players. Alongside this the workshop looks at some of the tennis specific movements and ways in which to deliver an effective warm-up. The workshop is aimed at all levels of coaches.

Can you as a coach improve your players speed on court? What's the theory behind speed? These are common questions coaches ask and this course will provide you with the theory and provide practical examples in ways in which to develop this with players. Furthermore, the workshop talks about tennis specific movements and ways in which to incorporate exercises to help develop these on court. Finally a review of warming-up and effective ways in which to deliver this will be considered. Evidence base is a crucial element of this course. NO refunds, even if you are not able to attend.

---